H W Gibbs (1893 - 1918)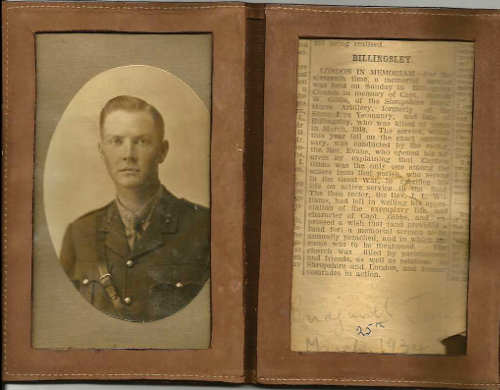 Harold Walter Gibbs was baptised at Billingsley on the 24th December, 1893. He was the son of Frederick Walter Gibbs, clerk in colliery office, and his wife, Mabel Annie. Frederick and Mabel appear to have been married in Peterborough in 1891. They lived at Prospect House, Billingsley. They later moved to Streatham, London, and Westcliffe-on-Sea, Essex.
Harold was educated at Bridgnorth Grammar School. He then moved to Sparkhill, Birmingham where he worked as a clerk at Lloyds Bank.
Harold was awarded the Territorial War Medal, so he must have served in the Territorials before the outbreak of war and he must have still been serving or re-joined at the outbreak of war. He was commissioned in the Royal Horse Artillery (Territorial Force) in December 1915. He went to France in April, 1917. At the time of his death, he was serving with 158th Battery, Royal Field Artillery. Harold died of wounds on 25th March, 1918, just after his division was involved in the Battle of St Quentin at the start of the German 'Operation Michael' Spring offensive.
Lieutenant Gibbs was awarded the Victory and British medals and the Territorial Forces Medal.
DIED FROM WOUNDS [Bridgnorth Journal, Saturday 30th March, 1918] Mr F. W. Gibbs, Prospect House, Billingsley, has received the news that his only son, Lieut. H. W. Gibbs, R.F.A., died on Monday last from wounds received in the fight on the Western front.
The photograph shown at the top of the page was kindly supplied by Nicky Gray. Harold Gibbs was her husband's Great Uncle. The keepsake was found in a piece of furniture that had belonged to Harold's sister. The newspaper cutting, from the Bridgnorth Journal of 25th March, 1934, is a report of the sixteenth annual memorial service held to commemorate Lieutenant Gibbs at Billingsley Church.
This memorial has mostly been compiled from official sources. It would be good to be able to expand it with more personal material - memories, stories, photos, etc. If you have any suitable material or any corrections please contact Greg. For news of updates follow @BridgnorthHeros on Twitter.