H Dickinson (1885 - 1917)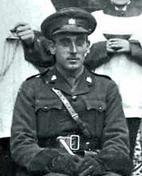 Harry Dickinson was born in 1885. He was the son of Richard Henry Dickinson, a mechanical superintendant for the tramways, and his wife Cecilia. Harry was baptised at Holy Trinity, Bordesley in September 1897; he was twelve. Two of his brothers were baptised at the same time.
Harry became a Church of England clergyman. In 1911 he appears to have been a curate at St George's, Wolverhampton. At the time of his death, his address was St. Stephen's Vicarage, Birmingham. At some time he was a Classics master at Bridgnorth Grammar School.
Harry served as Chaplain to the Forces grade 4 (equivalent to Captain). He was attached to the 28th London Regiment, (Artists' Rifles). He was killed in action on 30th October, 1917 during the Second Battle of Passchendaele. He is buried in Passchendaele New British Cemetery.
The Rev Dickinson, CF, was awarded the Victory and British medals.
Harry Dickinson is commemorated on the two War Memorials at Bridgnorth Grammar School (now Bridgnorth Endowed School).
This memorial has mostly been compiled from official sources. It would be good to be able to expand it with more personal material - memories, stories, photos, etc. If you have any suitable material or any corrections please contact Greg. For news of updates follow @BridgnorthHeros on Twitter.